For over 25 years, White Bird Productions has been producing plays, commissioning new work, collaborating with musicians and choreographers and, through Creative Theatrics, offering children's theater classes in Brooklyn. In 2017 White Bird Productions celebrated its 25th Birthday as a 501(C)3 non-profit theater company.  Based in the Alliance of Resident Theatres/New York's South Oxford Space in Fort Greene, Brooklyn, White Bird Productions has a particular interest in the urban landscape, and how the residents and the natural environment of New York complement and collide with one another. Ensemble developed work exploring these issues includes Villagers (John Istel) at St. Mark's Church in the Bouwerie, COMBUSTION: The Politics of Trash at BAM (Kathryn Dickinson), and Islands: An Urban Archipelago (David Pleasant and Dickinson) at Blue Heron Arts Centre.
In 2002, in response to the devastion of 9/11 of the people and places of NYC, the Boro Tales project sought to create a healing theatre piece for family audiences that celebrated our urban environment.  Boro Tales: Brooklyn at the Blue Heron Arts Centre and BRIC Studio in downtown Brooklyn and Boro Tales: Manhattan at HERE Arts Centre brought together playwrights Lynn Nottage, Jeffrey M. Jones and Camila Jones, Melissa James Gibson, Len Jenkin, Marjorie Duffield, Onome Ekeh, Jenny Lyn Bader, David Ashkenasi and John Istel to re-imagine fairy tales in their home borough of New York City.  And, in the spirit and magic of the urban playground, Artistic Director worked with its teaching artists to develop and perform NEVERLAND: The World of Games at BRIC and HERE.
In 2005, White Bird Productions produced the Barbie Project, which brought together performing artists to explore their childhood memories/experiences with Barbie and Ken dolls. In addition, the flying south series, which has included Cooking With Lard by Cindy Hanson and Cheryl Norris (2004), a series of political monologues American Blues (2004 & 2008), and a production of Kathryn Dickinson's Borne of Conviction (2010), is a program that explores, develops and produces theatre about the American South.
White Bird sponsors Rudy's Collaborative as a young company in residence, with the most recent TABLE Play "City of Ladies" performed in a NYC apartment. In 2010, Rudy's developed its first original piece, Forgeries of Jealousy, performing at Irondale Center. Rudy's develops site specific pieces in Brooklyn (This is my Real Life in Brooklyn brownstone and SLOW DOWN with the Performing The Streets Festival).
White Bird Productions has been proud to receive major funding for many of these projects from New York City Environmental Fund (Hudson River Foundation), Andrew W. Mellon Foundation Arts Relief Fund, Cultural Council Foundation, Community Arts Partnership Program (project of Brooklyn Academy of Music), CASA from New York City, Brooklyn Arts Council, family foundations and private donors.
White Bird Production History:
Productions:
1987:
1st production Terror America and A Public Service By John Istel at the OHIO Theatre.
1989-1998
White Bird Playwriting Contest for plays that engaged with an environmental and ecological theme, event or issue. Playwrights include: Lynn Nottage, Shem Bitterman, Robert Siegel, Lissa Benyon, Eliza Anderson, Bob Mayberr, Steven Somkin.
1989:
Incorporated as White Bird Productions, Inc.
Ambulance of Love by John Istel at Perry Street Theatre
1991:
Evelyn Dances by Cynthia Hanson at Synchronicity Space
1992:
Night in Tunisia by Regina Taylor – Reading at Ohio Theater
1990:
Villagers By John Istel at St. Mark's Church
1992:
Received its 501 (C) 3 not-for-profit status
1995:
Combustion: The Politics of Trash By Kathryn Dickinson at BAM — Leperq Space
1997:
Combustion: The Politics of Trash By Kathryn Dickinson at BAM — Hillman Studio
2000:
Islands: An Urban Archipelago by David Pleasant & Kathryn Dickinson
2002:
Boro Tales: Brooklyn at HERE Arts Centre
The Little Matchgirl By Lynn Nottage
Rapunzel By Melissa James Gibson
Twelve Brothers By Jeffrey M. Jones & Camila Jones
Snow White By Onome Ekeh
Lucky Hans By Marjorie Duffield & Danny Ashkenasi
Dancing Princesses by Marjorie Duffield & the Performance Team
2003:
Boro Tales: Brooklyn at BRIC in Brooklyn
2004:
Cooking With Lard by Cindy Hanson & Cheryl Norris at HERE Arts Centre
2004:
Neverland: A World of Games at HERE Arts Centre & BRIC
2005:
Boro Tales: Manhattan at HERE
Briar Rose By Len & Zoe Jenkin
The Fisherman's Wife by Jenny Lyn Bader
Hood By Welker White, Delphine Dhilly and Performance Team
2005:
American Blue at HERE — A Festival of New Works & Commentary about Blue State/Red State sentiments.
2005:
The Barbie Project at the OHIO Theatre (An Adult look and stories about Barbie & Ken dolls)
2008:
American Blues and Passion at South Oxford Space
2010:
Born of Conviction at Irondale Center By Kathryn Dickinson, Directed by Kara-Lynn Vaeni
2010:
Hosted Rudy's Collaborative Forgeries of Jealousy at Irondale Center
2010:
Hosted The Human Company Against the Dying of the Light, Directed by Kelly Hanson
2011:
Presented Rudy's Collaborative This is My Real Life — site specific apartment in Windsor Terrace
2013:
Experimental Mobile Unit Performances (EMU: A New Performance Program for Teens – Program Director: O'Hagan Blades)
Connecticut Muffin, Key Food & a Stoop, Directed by Daniel Levin
Park Slope United Methodist Church Garden, Directed by Laura Barnett & Mark Greensfield
South Oxford Space (Alliance of Resident Theatres/NY), Directed by Michael Leibenluft
Two Boots Restaurant in Park Slope, Directed by Mark Greenfield
2013-14
Performances Creative Theatrics Summer Theater Workshop and After School Program (Moby Dick, Shakespeare, Puppetry, Musical Theater Mix-Up, Rock Opera, and More!)
2015
Table Play: City of Ladies, Rudy's Collaborative at Crown Heights apartment
2017
Word Cabaret at Brooklyn Waterfront Artists Gallery: "WORK SHIFT(s): 3 Stories about Labor, Love, and Loss."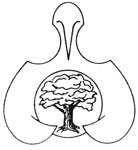 The original
White Bird
Productions logo
White Bird Productions was named after a little white canary that flew into our NYC window. We named her Sarah after actress Ms. Bernhardt for her dramatic entrance into our lives, realizing how this tiny bird represents the natural world begging dramatically for our attention.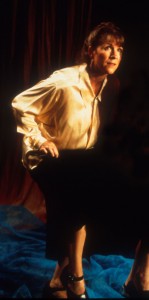 Kathryn Dickinson
Founding Artistic Director
Kathryn Dickinson is the Founding Artistic Director of White Bird Productions. Combining her career in theater with interest in exploring the urban physical, social and political environment, Kathryn collaborates with theater professionals, environmentalists, and the children/youth of New York City to develop vital theater that speaks to the hearts and minds of its urban dwellers. Works include Combusion: The Politics of Trash that chronicled the struggle over a mass-burn municipal incinerator at the Brooklyn Navy Yard. Born in Mississippi, raised in Southern California and trained in theater at SMU in Dallas, Texas, Kathryn also has keen interest in the themes, flavors and conflicts of the American South. She wrote Born of Conviction, a play about her Methodist family's experience during the 1960's civil rights crisis in Mississippi. Along the way, Kathryn began Creative Theatrics, a program based in Brooklyn that provides children and youth with the skills and soul of theater-making, a program celebrating its 20th year.
White Bird Productions/Creative Theatrics teaches children basic theatre concepts, terms and skills as students explore literary and theatrical classics, re-imagining them in a modern context.
Lorrie Harrison
Creative Theatrics Registrar
For eight years, Lorrie served as the Director of Creative Theatrics, overseeing the summer theater workshop and afterschool programs. She managed the Picnic House, and is known for her innovative ideas and weekly themes. Lorrie is now serving as the Creative Theatrics registrar.
White Bird Productions/Creative Theatrics teaches children basic theatre concepts, terms and skills as students explore literary and theatrical classics, re-imagining them in a modern context.
Barbara McGouran
Office Manager & Bookkeeper
For the past year, Barbara has worked as our bookkeeper and office manager, seeing us through on-line registration and web development.
White Bird Productions/Creative Theatrics teaches children basic theatre concepts, terms and skills as students explore literary and theatrical classics, re-imagining them in a modern context.